Quilted faux leather took the fashion scene by storm at the end of 2013 and has made its way into 2014. And this time, it's not just the jackets and the handbags. It's Rock Chic Skirts that are quilted! If you haven't already, add one of these trendiest pieces to your wardrobe. You are still not too late!
Black has always been choice in faux leather and shows of the quilting stitches beautifully, but there are more colors to choose from, including white. Take your pick from our favorite quilted pieces this season and find inspiration from other fashionistas who are rocking this trend.
Black takes the Lead
Starting with faux leather designer's favorite color – Black. These hot little skirts will make every possible design dream of yours, possible. The most basic and classic quilted skirt style is this regular mini skirt with a slight flare or a straight cut.
Fit and flare skirts are super sexy.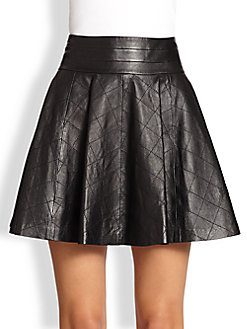 Try the one above with an embellished black sweater, an oversized handbag and boots.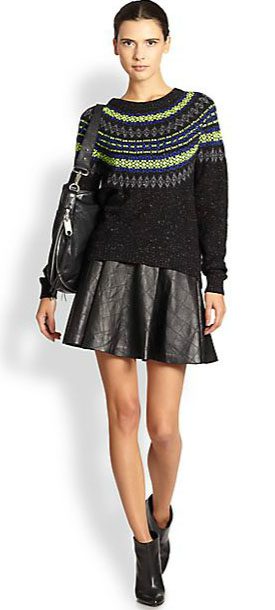 Puffer is not just for down vests anymore! We are so in love with this stylish MaxMara skirt.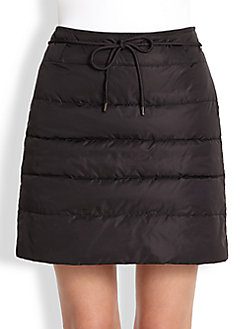 Pair it with a turtle neck pullover in bold b/w stripes and knee-high boots.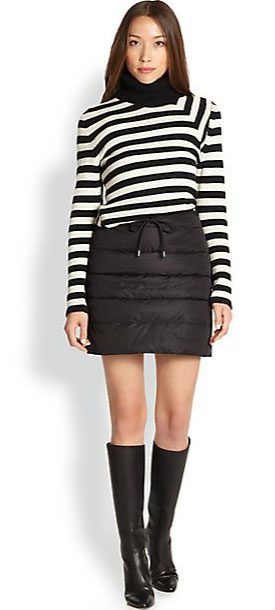 A golden front zipper makes this quilted faux leather short skirt by TOP STUDIO even more sexier, don't you think?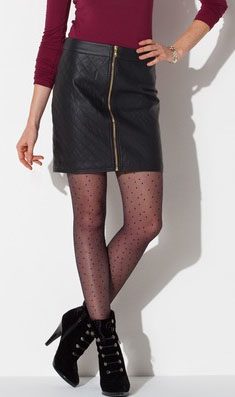 You can glam up a basic quilted skirt in black with a white, embellished neck t-shirt.
For colder days, layer up with a long cardigan.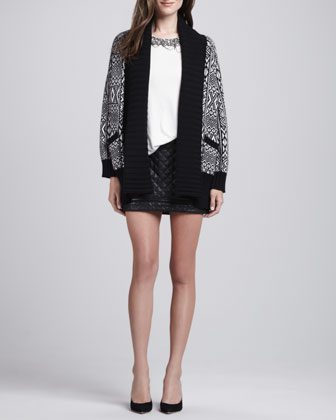 We love how French Fashionista and Blogger Tatiana Cosson of Coquette Parissienne styled this basic quilted skirt with side zippers.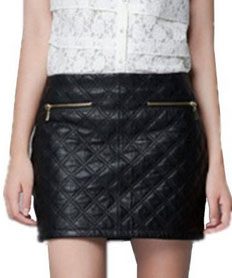 She turned it into a chic and sophisticated look by pairing it with a feminine, polka dotted, Peter Pan collar top by Zara!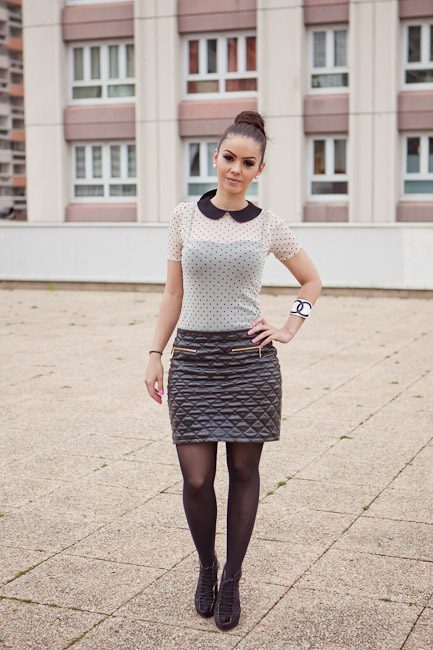 Another skirt that lends itself beautifully to creating a glamorous, feminine look is this skater skirt in black.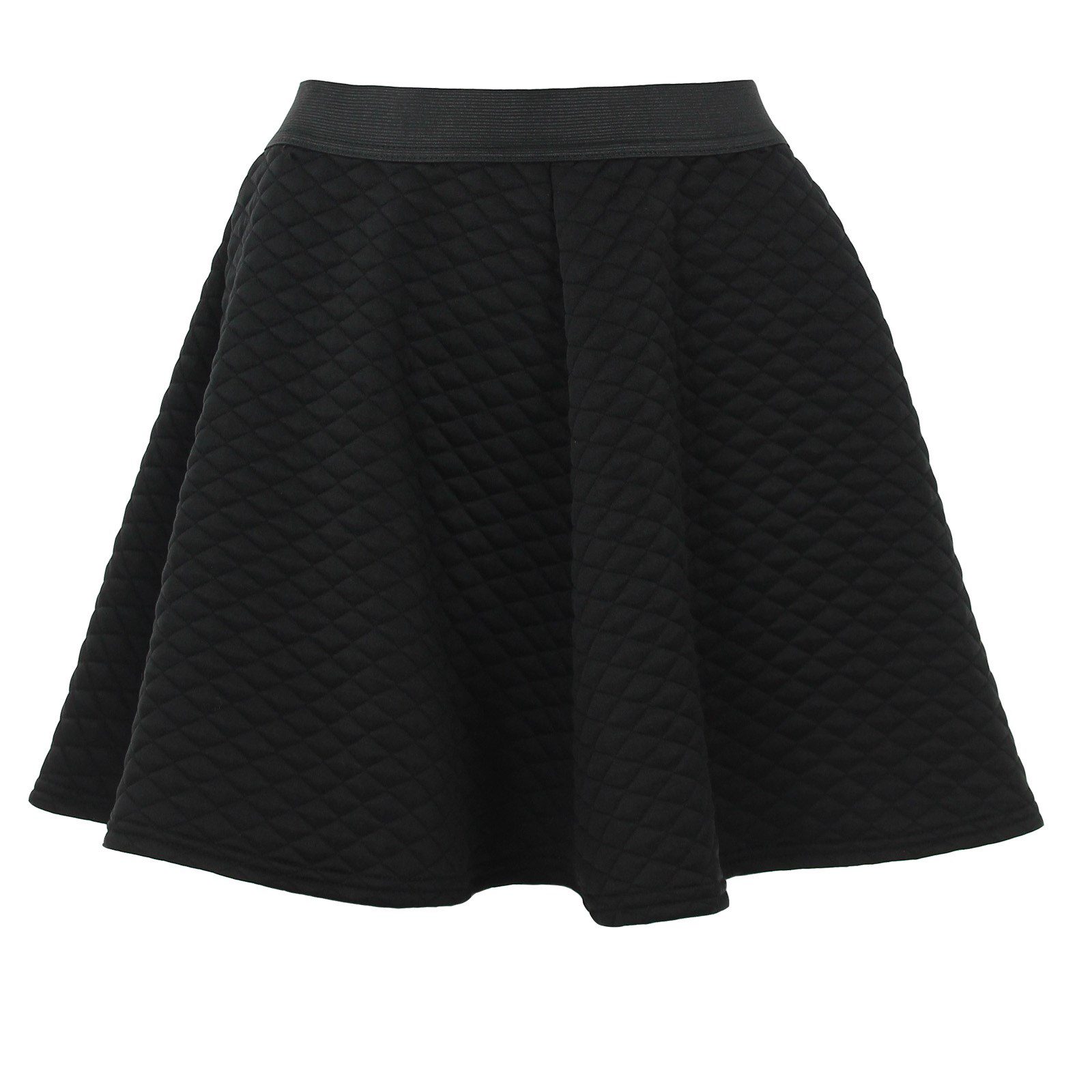 Pair it with a stylish bi-material top with dotted tulle and a pair of strapped heels for a glam evening look.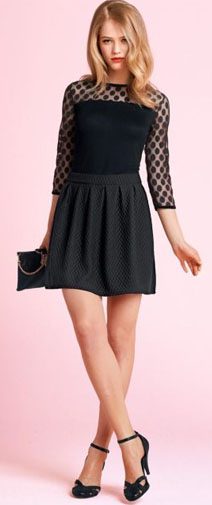 For brighter days, pair this super chic crossover quilted skirt by Finders Keepers with a floral shirt.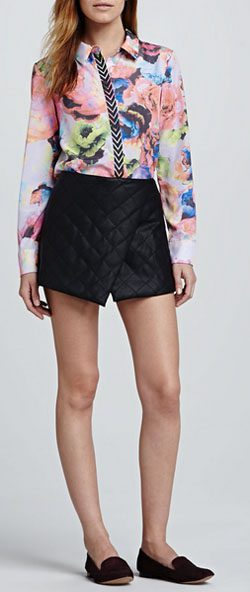 Color Me Quilted!
Keeping close to black, we first chose this Navy blue skirt by the talented French Designer Rabih Kayrouz.
Another lovely piece in navy is this classic quilted design from the Fall 2013 collection of GANT. Paired with a gray/blue high neck sweater, stockings and loafer-style booties, this outfit is an anytime no-brainer.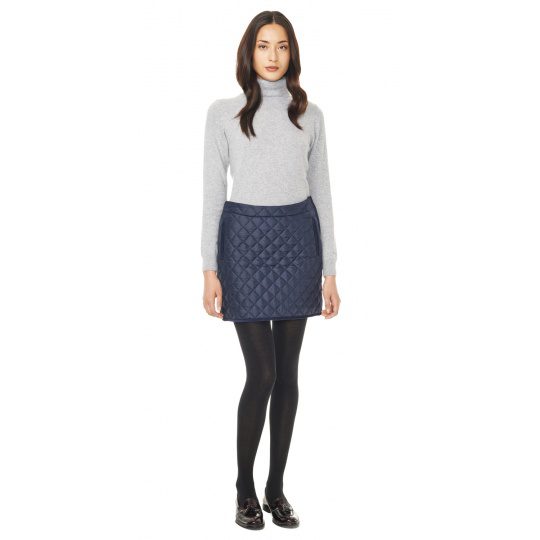 A great party outfit idea with the quilted trend would be to pair a metallic plum piece with a bi-material black top.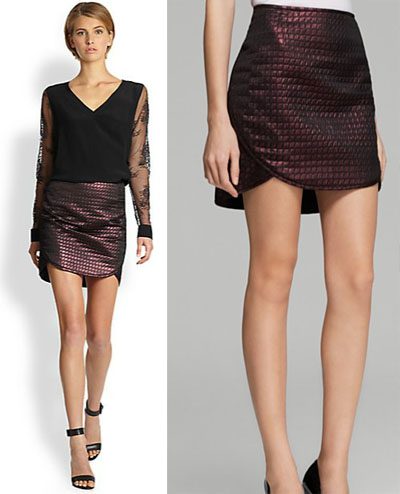 Love Chevron? Who doesn't! Mix the Chevy look with metallics and quilting and you get another stunning skirt by Opening Ceremony.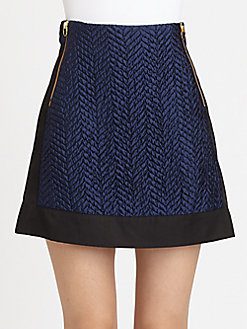 Moving on to a bolder color, this 'Pretty Tough' quilted skirt in hot red looks perfect with the black batwing sleeve top, but it could also go great with a white top to change the look.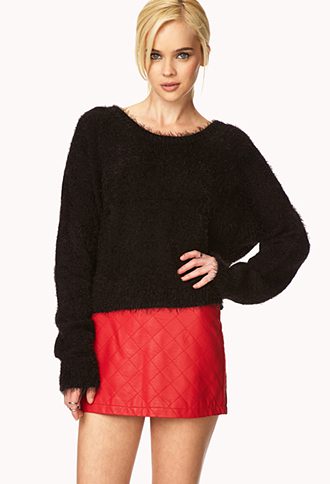 Dare to go extreme? Mix two edgy trends together in this next look. A charming knee length quilted skirt in yellow is paired with a bold snakeskin top in similar hues.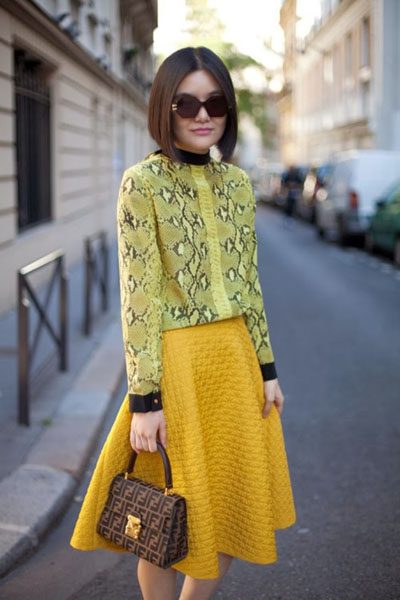 Give your spring and summer pastels some texture! A yellow quilted skirt can give a totally opposite look that is gentle and feminine when paired with pastel shades. This beautiful outfit from H & M is one of our favorite looks.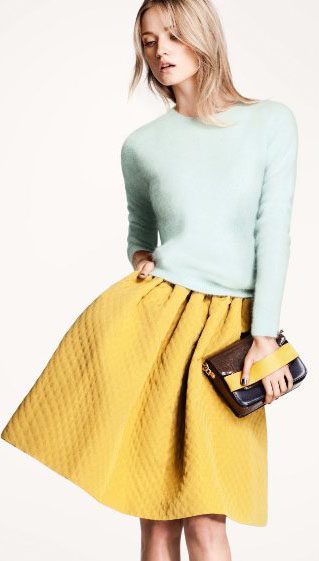 And finally, this beautiful white floral quilted, contour hemline top can be paired with a black or any other color top, or if you dare to go 'bright in white', pair it with a matching quilted peplum top.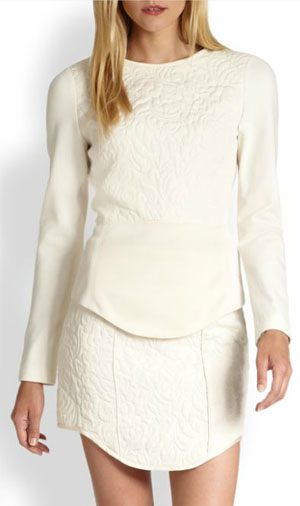 Undeniably modern and chic, this take on classic skirt styles gives them a subtle texture, mild padding and an unexpected edgy look that makes it very versatile for day to night looks. The quilted skirt is not just a necessary piece this season, it is totally indispensable!
Content Disclaimer 
This Content is Generated from RSS Feeds, if your content is featured and you would like to be removed, please 
Contact Us
With your website address and name of site you wish to be removed from.
Note:
You can control what content is distributed in your RSS Feed by using your Website Editor.
Women's Fashion Offers Shoes & Trainers Offers
Women's Clothing Accessories
Underwear & Lingerie Offers
Cosmetics & Beauty Offers